Why did Matt and Mike have their best month ever this January?
Mention the word January in front of any salesperson in the lead generation services world and you'll most likely be met with a universal groan and displeased mumble. It has long been thought that a January target was almost unachievable – everyone's off on annual leave, consumer data leads demand is low, moods are synonymously low as cases of SAD set in and there's a general feeling of bleakness. Not for our sales team though, our top b2c data salespersons Matt and Mike had one of their best months as a collective this January and it only seems to be continuing here at DBI.
So why was it their best month ever? Matt explained that there were numerous factors that contributed to the success of a normally challenging start to the year. Travelling all over the UK with meetings in Manchester, Cardiff and London, Matt and Mike were unstoppable in their quest to hit their consumer data targets. Matt found this particularly helpful as not only did it help to build a stronger relationship with existing clients, he was also able to identify new business opportunities that he would not have known about otherwise, selling life insurance leads, funeral plan leads, insurance leads, boiler leads, and other consumer data leads. This helped in increasing values on orders and contributed in a larger way to his target without having to find new business.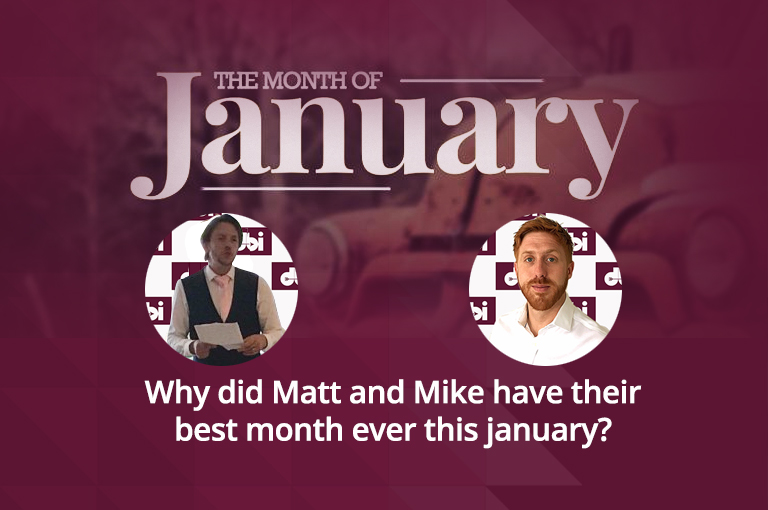 There seemed to be an ethos underpinning their work ethic for January 'understanding it would be twice as difficult meant that we both worked twice as hard' Matt explained. On days spent in the office, calls were constantly being made and e-mails regularly sent. A focus on ECO, boiler leads and insulation meant that Matt and Mike had access to extra databases that had been performing incredibly well and were able to send testimonials to prospective clients.
Mike's decision to adapt his companies and verticals he targeted proved to be hugely beneficial. By looking at the seasonality of businesses, he was able to recognise that debt companies would be particularly prolific when looking for financial data in January. People have just been overspending, they may be wanting to consolidate some of the debts they've racked up over Christmas. A smart move that contributed significantly to his overall customer acquisition target.
There were, understandably, some obstacles for the team. Matt found the lack of contact particularly at the start of the month frustrating however he became strict with his call back regime and persevered eventually leading to some fantastic conversations that led to data lists sales and potential sales in February. Mike found that clients still had a proportion of data left from December orders so re-orders were not coming through as frequently as he'd have liked. Instead, Mike had to offer alternative products i.e. trying list management records where survey questions had not been providing vast results.
A successful January was quite the triumph for both Matt and Mike and the hard work put in by them both means that February also looks set to be victorious. Matt's pipeline is now the biggest it has ever looked in the history of working for the business (£50k!) and due to the new lead gen orders and verticals it means he has new testimonials available to help with the onboarding of new clients. Mike continues to manage appointment setting and travels for successful client meetings with both current and new clients.