Meet Jane – why is she so critical to our UK Sales team?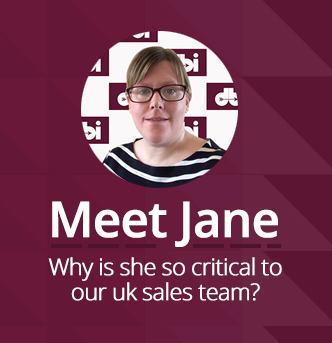 Calming, diligent and trustworthy are just a few words that describe Jane by her colleagues. Jane started at DBI in August 2018 and since then has become a crucial part of the team. She has a wide variety of knowledge in different sectors of the business and is intrinsic to the success of the UK leads side of DBI.
Having previously worked as a staff nurse, Jane loves the autonomy that comes from her role. She creates her own daily agenda, manages her own workload and loves working from home. No micro-managing in sight!
Jane's day always starts with a sales call, filling in the UK sales team with the day's schedule as well as keeping a tab on any consumer data leads deals set to drop.
Hubspot is where Jane truly reigns supreme – here she creates weekly pipelines so that the sales team can keep motivated and stay on track to hitting their consumer data target. Via Hubspot, Jane is also able to continuously upload qualified telephone leads that are then sent out to sales persons. She works closely with Janet, a marketing assistant in head office, to prospect businesses and clarify their relevance to DBI. This initial clarification makes the entire process much simpler for our UK sales team as they're able to speak with a business that has already had contact from us directly and not waste time having to ask questions to see if the lead is appropriate.
Jane is currently working on a large project, updating the sales process and handbook. The handbook gives advice on how to get the most out of your job as well as outlining the processes and procedures. This is a critical document particularly for new members of staff.
Our UK business developer Matt described one incident where Jane had been vital in getting a sale. Jane had noticed that one of Matt's prospects had posted on LinkedIn regarding sky data usage. This was updated on Hubspot in such quick succession that Matt was the first person able to reach out to this specific client. This led to a £3,000 deal; £1,000 for lead gen and £2,000 for life insurance leads list rental – something that never would have happened without Jane's lightning speed response!
In her spare time, you can find Jane getting some well-earned rest and relaxation binging a series on Netflix or walking her dog. She lives at home with her husband, four cats and dog all of which are from rescue centres (husband not included)!