DBI Privacy Policy
COVERAGE
This Privacy Information explains how we intend to use your personal data: how it is collected, how it is held, and how it is processed in the course of our business. It also explains your rights under the law relating to your personal data.
Although not a member of the UK Data & Marketing Association ("DMA"), DBI endeavours to abide by the DMA code of conduct in conjunction with the legal requirements of UK GDPR, DPA 2018 and PECR
With that in mind, this Privacy Policy is designed to describe:
• Who We Are
• Your Rights
• Complaints and Queries
• Information We May Collect From You
• How Do We Intend To Use Your Personal Data?
• Consent And Legitimate Interests
• Why Do We Collect This Information
• The 'Matters' Family Brand
• To Whom May We Share Your Data With?
• How Will We Use This Information
• How Long Will We Retain Your Personal Data?
• Where Do We Store Or Transfer Your Personal Data?
• How We Keep Your Personal Data Secure
• How Do We Transfer Your Personal Data
• When Do We Have To Share Your Data?
• Do We Collect Data From Other Sources
• Right Of Transfer
• Accessing Your Personal Data
• Links Within The Website
• Changes To This Privacy Policy
• Cookie Policy
This Privacy Policy is intended to meet our duties of transparency and balance under the GDPR and all other applicable privacy laws to ensure that the information that you provide to us is safe and is only used for the purposes that are stated in the opt-in statement provided at the time the information is collected
WHO WE ARE
DATABLAZERS INC / DBI. / DBI is a company registered in the Philippines under registration number CS201408819. We are also registered with the Information Commissioners Office with ICO No. ZA183726. We are an ISO 9001:2015 certified company since 2016 with Certificate No 78522/A/0001/UK/En.
Here are the ways to contact us:
• Through our Head Office:
Richville Corporate Tower Madrigal Business Park,
Ayala Alabang, Muntinlupa City, 1780 Philippines
• Through our UK Representative:
Data Rep Service
London, United Kingdom
120 High Road, London. N2 9ED
ICO Number: ZA844090
• Through Email:customercare@dbiph.com
• Through Telephone:0203 129 9962
DATABLAZERS INC / DBI is registered as a Data Controller with the Information Commissioner's Office "ICO".  DATABLAZERS INC / DBI is committed to protecting the personal data that you provide to us and recognize the importance of being clear about how we intend to use it.
We have appointed a "Data Protection Officer", this is a person who is responsible for overseeing and advising us in relation to our compliance with the GDPR and our compliance with this Privacy Policy. If you want to contact our Data Protection Officer directly, you can email: dataprotection@dbiph.com
YOUR RIGHTS
DBI takes very seriously the individual rights of all consumers.
If any point, one feels or thinks that this is hampered in any way – please do not hesitate to contact DBI immediately.  We promise to action and investigate this accurately without undue delay.
Data protection regulations mean you have rights over how we hold and use the information we hold about you:
• The right to be informed about the collection and use of your personal data. This Privacy Policy should tell you everything you need to know, but you can always contact us to find out more or to ask any questions using the details mentioned above.
• The right to access the personal data we hold about you.
• The right to have your personal data rectified if any of your personal data held by us is inaccurate or incomplete.
• The right to be forgotten, i.e. the right to ask us to delete or otherwise dispose of any of your personal data that we
• The right to restrict (i.e. prevent) the processing of your personal data.
• The right to object to us using your personal data for a particular purpose or purposes.
• The right to withdraw consent. This means that, if we are relying on your consent as the legal basis for using your personal data, you are free to withdraw that consent at any time. To withdraw your consent, contact us on customercare@dbiph.com or through any of our brands – customercare@mhcimatters-ph.com
• The right to data portability. This means that, if you have provided personal data to us directly, we are using it with your consent or for the performance of a contract, and that data is processed using automated means, you can ask us for a copy of that personal data to re-use with another service or business in many cases.
• Rights relating to automated decision-making and profiling.
For more information about our use of your personal data or exercising your rights as outlined above, please contact us using the details provided.
It is important that your personal data is kept accurate and up to date. If any of the personal data we hold about you changes, please keep us informed as long as we have that data.
Further information about your rights can also be obtained from the Information Commissioner's Office.
COMPLAINTS OR ANY QUERIES
We always do our best to meet the highest standards when collecting and using personal information. For this reason, we take any complaints very seriously and encourage people to bring it to our attention if they think that our collection or use of information is unfair, misleading or inappropriate.
This privacy notice was drafted with brevity and clarity in mind. It does not provide exhaustive detail of all aspects of our collection and use of personal information.  However, we are happy to provide any additional information or explanation needed.
Any requests for this should be sent to the address below:
By Email:  dataprotection@dbiph.com
By Phone: 0203 129 9962
In Writing:
The Compliance Manager / Data Protection Officer
DATABLAZERS INC / DBI
Richville Corporate Tower Madrigal Business Park,
Ayala Alabang, Muntinlupa City, 1780 Philippines
Through our UK REPRESENTATIVE:
Data Rep Service
London, United Kingdom
120 High Road, London. N2 9ED
ICO Number: ZA844090
Via Email: customercare@dbiph.com
Via Telephone: 0203 129 9962
You can also withdraw your consent for live or automated calls from anyone by registering your telephone number on the Telephone Preference Service. Details can be found at www.tpsonline.org.uk
If we cannot deal with your complaint to your satisfaction you have the right to complain to a relevant supervisory authority which include:
The Information Commissioner's Office, Wycliffe House, Water Lane, Wilmslow, Cheshire, SK9 5AF. https://ico.org.uk/make-a-complaint/
However, we would welcome the opportunity to resolve your concerns ourselves so please contact us first
DEALING WITH DISSATISFIED CONSUMERS
Feedback may also be given to DBI through our brand partners, clients or sponsors.  More often these are dissatisfied or unhappy consumers who were contacted previously by our partners and wish NOT to be contacted anymore.
Their details MAY be part of our databases.  Though, it is also possible that they are not.
Either way, DBI continue to adhere to the goal as mentioned in the previous slide and treat the feedback as a valid OPT-OUT request.
OPT OUT REQUESTS
Our goal is to ensure that customers who no longer wish to be contacted are no longer contacted in any way, form or manner after their request.
As part of our approved ISO 9001:2015 process, we initiate the following actions after a request is made:

Once the Data Destruction Certificate is released, DBI informs all partners and affiliates to remove the same number in all their databases within 24 hours upon receipt of request. However, a reasonable time of no more than 7 working days must be given for all communications to stop. DBI executes this last step to extend the request of the consumer but DBI cannot be held responsible in case the partner fail to action this from their end.
Once the Data Destruction Certificate is released, the ONLY information left in our systems about the consumer will be the number in our DNC and the information in the Data Destruction Certificate.
PERSONAL DATA
Personal data is defined by the GDPR as 'any information relating to an identifiable person who can be directly or indirectly identified in particular by reference to an identifier'.
Personal data is, in simpler terms, any information about you that enables you to be identified.
It does not include 'anonymous data' (i.e., information where the identity of an individual has been permanently removed).
However, it does include 'indirect identifiers' or 'pseudonymous data' (i.e., information which alone doesn't identify an individual but, when combined with certain additional and reasonably accessible information, could be attributed to a particular person).
INFORMATION WE MAY COLLECT FROM YOU
The personal data that we may use is set out below
• Unique Reference Number (URN) – system generated identification reference
• Salutation
• First Name
• Surname
• Address / Postcode
• Telephone number – landline or mobile
• Email Address
• Age Bracket you fall under
Supply date and time stamp
• Profiled Information such as your preferences, interests, likes and dislikes.
We will NEVER collect any financial details from you or would we collect any sensitive information.
HOW DO WE INTEND TO USE YOUR PERSONAL DATA?
The information that you volunteer to DBI, via either call centre consumer surveys or lead generation programs, may be shared and used to appropriately target offers and marketing communications from our clients and from our selected third-party partners.
Marketing communications may be via telemarketing, email, post or SMS/MMS, depending upon the contact information that you provide to DBI and/or by the specification of a marketing channel preference. By volunteering your telephone number via third parties, you are agreeing to telephone contact from our clients, our selected third party partners and any named sponsors of specific survey questions.
Some questions on the consumer surveys are specific to named sponsor organisations, and by expressing a specific positive interest in their brand or products you are also agreeing to receive contact from them.
You will not be sent any unlawful marketing or spam.
We will never make automated responses which will have negative impact on your rights. We will always work to fully protect your rights and comply with our obligations and you will always have the opportunity to opt-out.
We will always obtain your express opt-in consent before sharing your personal data with third parties for marketing purposes and you will be able to opt-out at any time.
If you do not wish to receive direct marketing from us, please contact us with your request.
CONSENT AND LEGITIMATE INTERESTS
DBI and our approved and selected third party partners will use the data to provide consumers with information on products or services which we or they think may be of interest to the consumer or where they have specifically consented to be contacted for such purposes. The chart below summarises the application of consent or legitimate interest by various channels
DBI processes your data using two of the valid legal bases defined by the Regulations:
You give consent to a specific company or organization to reach you for Marketing Purposes through a channel or multiple channels which you have agreed to. At any time, you can withdraw your consent by contacting us.
Based upon the information you provided to us, your data may be processed under Legitimate Interest by ourselves or others through a specific channel. These communications may be about: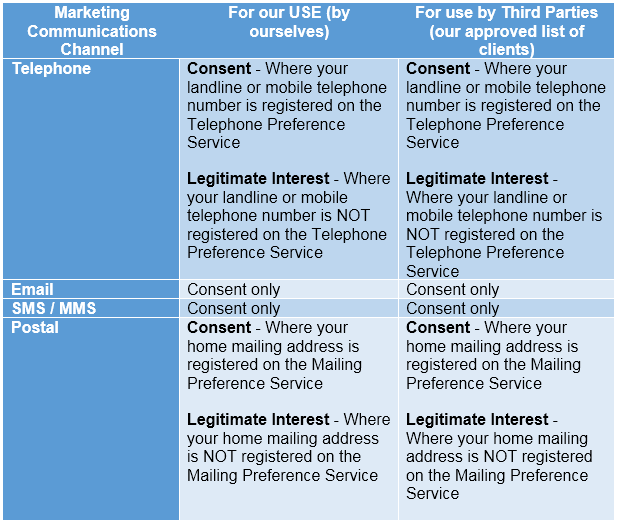 products or services which we believe may be of interest to you or will be helpful for you. As with all your data, you may exercise your right to object or process by contacting us.
Your data may also be used for validation, enhancement, information verification, suppression, tracing and to the extent permitted by law, individual reference or look-up services, by DBI and third parties.
We do not collect any Special Categories of Personal Data about you (this includes details about your race or ethnicity, religious or philosophical beliefs, sex life, sexual orientation, political opinions, trade union membership, information about your health, and genetic and biometric data) nor do we collect any information about criminal convictions and offences.
WHY DO WE COLLECT THIS INFORMATION
We collect this information as it provides the basis of business and allows us to provide the following services to our clients.
• Targeting: To make sure that you receive offers relevant to you. Our clients use your information and information on other individuals to decide how best to target you and by suitable communication channels, this means that you should receive offers which are more relevant to you.
• Marketing: Our business is providing personal data to our clients for their marketing campaigns. For example, if a relevant organisation wanted to inform you about their product or service. We may provide details on the basis of your demographics, geography and legitimate interests.
THE 'MATTERS' FAMILY BRAND
The 'Matters' Family mission is to inform UK consumers on better products and services that will save them money year on year.
The 'Matters' Family brand aims to ensure that consumers get to know the most up to date services on the market through its trusted partner network.
The 'Matters' Family of brands are:
• Money Matters
• Household Matters
• Consumer Matters
• Important Matters
Each of our brands cover a different set of products and services or could be just making the consumer aware of a change in a certain marketplace.
If you would like to be contacted by Money – Household – Consumer – Important – Matters please e-mail newmembers@mhcimatters.ph and one of the team will call you back within 48 hours.
Money – Household – Consumer – Important – Matters is a trading brand of DATABLAZERS INC / DBI.
TO WHOM MAY WE SHARE YOUR DATA WITH?
We may share your data with our brands / trading styles under DATABLAZERS INC / DBI along with the following types of sectors and sample companies: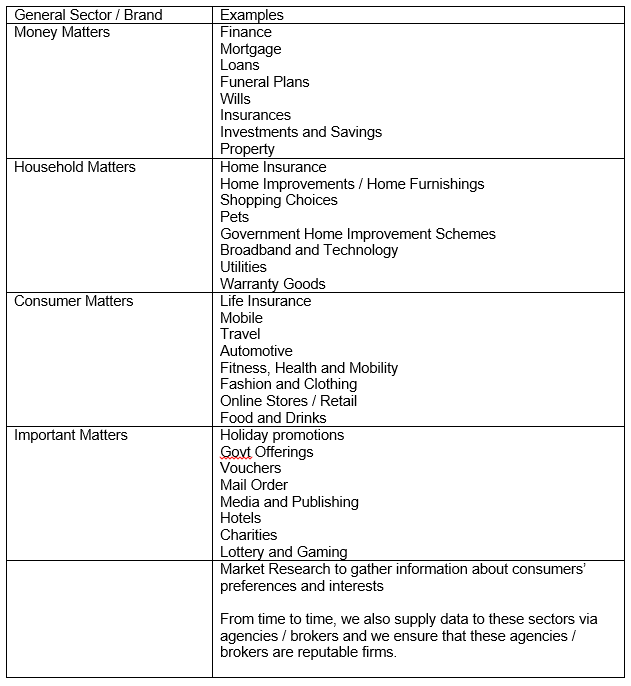 We endeavour to ensure that people to whom we provide Personal Data hold it subject to appropriate safeguards and controls. In addition, where relevant, when we share Personal Data with third parties who are not directly subject to the GDPR, we make sure that party is either:
• based in a country that has laws and institutions in place; or
• part of a sector or participates in a framework (e.g., the EU-U.S. Privacy Shield),
• that the European Union considers ensures that your Personal Data will be adequately protected; or
• adequate safeguards are in place to ensure your Personal Data will be protected in line with the requirements of the GDPR.
HOW WILL WE USE THIS INFORMATION
We will only use your personal information in the ways the law allows.
Most commonly, we will use your personal information in the following circumstances:
1.Where you have provided consent for the processing of your data in relation to an opt-in to a registration for marketing purposes. In this instance, we will share your data with the relevant client company or charity.
2.Where processing is necessary for the purposes of legitimate interests by us as data controller. If personal data is used in this instance, we will document our considerations in a Legitimate Interests Assessment ("LIA").
3.Where processing is required for the performance of a contract either party have entered
4.Where processing is necessary for compliance with a legal obligation We are not obliged to publish a list of these clients or charities due to commercial and legal protection reasons. You can contact us should you wish to enquire about an individual client or charity related to your specific enquiry.
HOW LONG WILL WE RETAIN YOUR PERSONAL DATA?
We will retain your personal data for as long as is necessary for the required service to be provided to you and in light of the reason for which it was first collected. All retained personal data is subject to the controls of our Data Protection Policy and will be kept for at least 12 months or as long as we have an active consent / opt in record from you. It is important to us that we have an accurate and up-to-date information about your personal data. And so, we will regularly update our database against suppression files and remove those who wish to no longer be contacted
To determine the appropriate retention period for personal data, we consider the amount, nature and sensitivity of the personal data, the potential risk of harm from unauthorised use or disclosure of your personal data, the purposes for which we process your personal data and whether we can achieve those purposes through other means, and the applicable legal, regulatory or other requirements.
Details of our various retention periods are in our retention policy and are available upon request.
Note that Personal data may also be retained in a suppression file. This is not retained for marketing purposes, but to ensure a record is not contacted multiple times for the same reason.
In the event of a complaint or SAR (Subject Access Request), DATABLAZERS INC / DBI will also retain a limited data record on the Do Not Call File and Do Not Process which is a listing of individuals who have opted out of further marketing communications and this is to help ensure that their preferences are respected on an ongoing basis.
This data is limited to:
• Request Type (DNC – Do not Contact Flag, Complaint, Subject Access Request)
• Telephone number
• Date of initial request
• Date of Data Destruction Certificate
• Data Destruction Certificate Number
WHERE DO WE STORE OR TRANSFER YOUR PERSONAL DATA?
Once we have received your personal data we will use recognized industry standard procedures and security features to try to prevent unauthorized access, misuse, disclosure and breach towards confidentiality, integrity and availability.
The data you share with DATABLAZERS INC / DBI through its trading names mentioned above are generated from our call centres in the Philippines who call you to conduct the questionnaire under the 'Matters' Family Brand (www.mhcimatters-ph.com)
Your personal data will be under the control and use DATABLAZERS INC / DBI. It will be held on our computer systems and servers located at our Head Office with address below:
Richville Corporate Tower Madrigal Business Park, Ayala Alabang, Muntinlupa City, 1780 Philippines
HOW WE KEEP YOUR PERSONAL DATA SECURE
We have put in place appropriate security measures and use encryption through technology to prevent your Personal Data from being accidentally lost, used or accessed in an unauthorised way, altered or disclosed.
The security of your personal data is essential to us and to protect your data, we take a number of important measures, including the following:
• limiting access to your personal data to those employees, agents, contractors, and other third parties with a legitimate need to know and ensuring that they are subject to duties of confidentiality;
• procedures for dealing with data breaches (the accidental or unlawful destruction, loss, alteration, unauthorised disclosure of, or access to, your personal data) including notifying you and/or the Information Commissioner's Office where we are legally required to do so;
When you participate and Opt In and agree to be contacted based on your preferences, you also agree to DBI's and all its brands and the marketing service providers related to your responses to use your details and supply them to other organisations specific to the purpose of sending you information, offers and promotions or lifestyle offers based on your preferences or profile. Your data may also be transferred outside the European Economic Union (EEU) as clients or marketing service providers may operate overseas primarily in the US, AU, NZ, India and Philippines but under the agreement that they will ensure that your details are only processed under the same laws as though they are in the UK.
HOW DO WE TRANSFER YOUR PERSONAL DATA
To ensure client correspondence and data privacy, protection, and security, we upload client-requested information; data capture files, recordings, and leads to our clients' folders in our secured FTP sites and in our clients' appointed sites.   
This is done from our in-house secured CRM to our secured database server then to our client's API or API server
WHEN DO WE HAVE TO SHARE YOUR DATA?
DBI will not share any of your personal data with any third parties for any purposes, subject to the following exceptions:
• In the event that we sell or buy any business or assets, in which case we may disclose your personal data to the prospective seller or buyer of such business or assets.
• If all of DATABLAZERS INC / DBI's assets are acquired by a third party, in which case personal data held by it about its customers will be one of the transferred assets.
• If we are under a duty to disclose or share your personal data in order to comply with any legal obligation, or in order to enforce or apply our terms of use and other agreements; or to protect the rights, property, or safety of DATABLAZERS INC / DBI, our customers, or others.
If any personal data is transferred outside of the EEA, we will take suitable steps in order to ensure that your personal data is treated just as safely and securely as it would be within the UK and under the Data Protection Legislation.
We will not otherwise disclose your personal data to anyone outside DATABLAZERS INC / DBI to use for their own purpose without telling you, obtaining your explicit consent and / or by updating this privacy policy.
DO WE COLLECT DATA FROM OTHER SOURCES
In order to validate and keep our consumer records as up to date as possible, we use third party products to help us verify data such as Match IT, GB Group and Data-8. When we collect information from these parties, we ensure that they have valid legal basis to process and share your data with us. We also match your data against industry suppression files and Telephone Preference Service (TPS). You can register for this free of charge at www.tpsonline.org.uk.
RIGHT OF TRANSFER
Should DATABLAZERS INC / DBI / DBI choose to sell or transfer business assets, it is possible that the information we hold may be transferred as part of the transaction. DATABLAZERS INC / DBI / DBI may choose to retain a copy of the information post sale or transfer depending on the final arrangements.
ACCESSING YOUR PERSONAL DATA
If you want to know what personal data we have about you, you can ask us for details of that personal data and for a copy of it (where any such personal data is held). This is known as a "Subject Access Request".
All subject access requests should be made in writing and sent to the email or postal addresses shown above.
Normally, there is no charge for a subject access request. However, if your request is 'manifestly unfounded or excessive' (for example, if you make repetitive requests) a fee may be charged to cover our administrative costs in responding.
We will respond to your subject access request within 30 days. Normally, we aim to provide a complete response, including a copy of your personal data within that time. In some cases, however, particularly if your request is more complex, more time may be required. You will be kept fully informed of our progress.
We would require a suitable form of identification and under normal circumstances, we will supply this to you within one calendar month of the date that we receive suitable proof of ID. A typical form of id would be a photographic copy of a utility or mobile phone bill that contains the individual's full name and address details.
LINKS WITHIN THE WEBSITE
There may be hyperlinks contained within our website which link to other websites owned and operated by third parties. These third parties have their own privacy policies, and we recommend that you consider those when using their websites. We do not accept any liability or responsibility in terms of the privacy and security practices of these third-party organisations and their websites.
CHANGES TO THIS PRIVACY POLICY
This Privacy Policy is kept under regular review and changes are published on this page. This Privacy Policy was last updated on 20 January 2022
COOKIE NOTICE
Please see our Cookie Policy on our website – www.datablazersph.com for details of how cookies are used.
FOR THE CLIENT OR THIRD-PARTY PARTNER:
If you are a client or supplier, then we will need to process your data in line with our legal obligations.
In some cases, we may use your personal information to pursue legitimate interests of our own or those of third parties, provided your interests and fundamental rights do not override those interests.
The situations in which we will process your personal information are listed below.
• Administering the contract, we have entered into with you and providing our products and services to you
• Business management and planning, including accounting and auditing.
• Making arrangements for the termination of our contracting relationship.
• Dealing with legal disputes involving you, or any disputes that may arise under the contract that we have with you or the way in which we provide our products and services to you. Some of the above grounds for processing will overlap and there may be several grounds which justify our use of your personal information.